*These weeks are in addition to all of our other activities.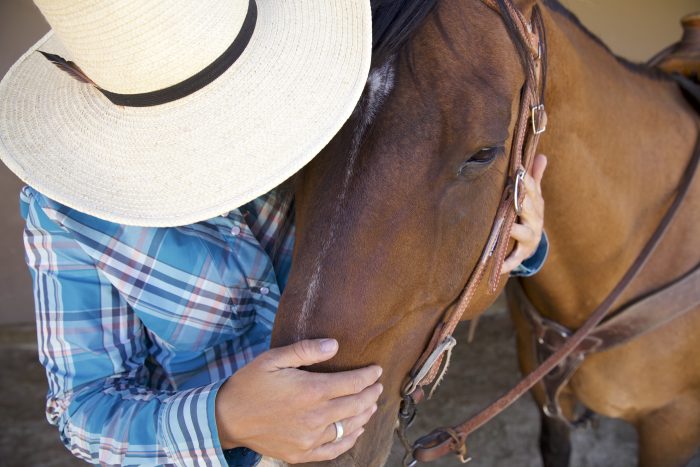 Restorative Horsemanship Week
Ready for a rejuvenating, unique experience? Upper Canyon Outfitters is proud to present Restorative Horsemanship Wellness Week. This will be a week balanced with structured, restorative activities and relaxing free time. The week's activities will be goal oriented in creating an authentic connection with an individual horse. Horsemanship skills and mindfulness skills will blend to allow participants to experience a genuine connection with not only their horse, but also the fellow participants. The class will be capped at 12 as to allow for individualized instruction. It is important to note that while no horse experience is required, participants will be learning intermediate horsemanship skills and will be asked to follow a comprehensive agenda each day. Mornings will be spent participating in Equine Facilitated Learning activities that focus on learning how to become a horse's leader and provide comfort for a prey animal. Participants will learn grooming, groundwork, handling and tacking skills. The afternoons will be spent participating in a variety of activities including trail rides, guided fly fishing, guided hikes, history tour, picnics and 4×4 tours, all of which will take place in one of the three mountain ranges surrounding UCO.
Our chef will be planning a special menu for this week of wellness, focusing on delectable, nutritious meals and snacks. UCO also plans on providing plenty of free time to enjoy the daily happy hour with specialty cheeses and wines highlighted nightly. In addition, an early morning yoga class will be provided to help participants prepare for a full day of activities. The week will conclude with a celebratory dinner, a slideshow of the participants accomplishments and live music under the stars.
This experience provides participants with the perfect opportunity to deepen a connection with horses, humans and self. It is an opportunity to take a holistic vacation and return home feeling restored and rejuvenated.
Goals: Mindfulness, connecting to nature, authenticity, rejuvenate, connect
Activities: EFL will be a big focus, mindfulness in nature, group processing/problem solving (accomplishing something) 
Check in Saturday July 3  and check out Friday July 9  six nights/ five days Cost $2880.00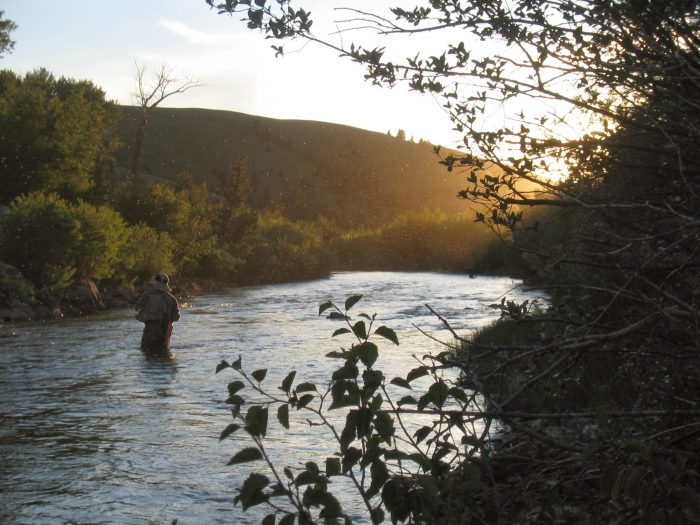 Grand Slam Week
5 different types of water/ 6 different species of Fish
This is truly a unique package in that it really can't be offered many places in America. So much water, so many fish and all within five minutes to one hour of Upper Canyon Outfitters.
This package is packed with what Fly fishing in Montana should look like: One day on the Upper Ruby River, One day on the Lower Ruby River, One day hiking to a high mountain lake, One day floating the famous Madison River, One day fishing a small tributary stream in the high mountain meadows. Get the Grand Slam and catch Rainbow Trout, Brown Trout, Westslope Cutthroat, Brook Trout, Arctic Grayling, Mountain Whitefish all in the same week.
The Ruby River begins between the Gravelly and Snowcrest Mountain Ranges. The river flows down these mountains into the Ruby Valley where UCO sets on the banks of the Upper Ruby. The river then flows into the Ruby Reservoir, below the reservoir, the river flows in the valley that lies between the Ruby Mountain Range and the Tobacco Root Mountains.
The Upper stretches of the Ruby River are secluded and surrounded by high mountain peaks and this section of the Ruby is excellent dry fly fishing for rainbows, cutthroat and grayling and an occasional brook trout. The lower stretch of the river, below Ruby Dam, provides excellent brown trout fishing; the current is slower with deeper pools and you never know what monster brown lurks below. .
Enjoy a high mountain lake fishing in the Tobacco Root Mountains which is made up of high peaks, snowy basins, alpine lakes, forested slopes and open rolling foothills. This range has numerous old gold mine claims and prospect sites, which were most active from the 1880's until the 1930's. Enjoy spectacular scenery, see history of the past and catch some of the most brilliantly colored Westslope Cutthroat you will ever see.
The Madison river is one of the most famous rivers in the west.  It offers beautiful scenery and excellent fishing.  The Madison River offers opportunities for all types of fishing from dry fly, nymph to streamer fishing.  The Madison has countless rifles, runs and pools, and provides the best fly fishing on the river. Big Browns and Rainbows are known to be found on the Madison. 
Fishing Mountain Meadow streams in the Ruby Valley; there are many small tributary streams that produce fast action for smaller sized trout (and sometimes some surprisingly larger fish).  The water is so clear you can see the bottom even in places up to ten feet deep.   It is a relaxing day fishing surrounded by wildlife and lots of fish. 
This week will be running concurrently with our Bamboo Week.  If you would like to upgrade your trip to experience building your own bamboo rod, the fee to do so is $760.  
Check in Saturday August 7 and check out Friday August 13  six nights/ five days Cost $3095.00.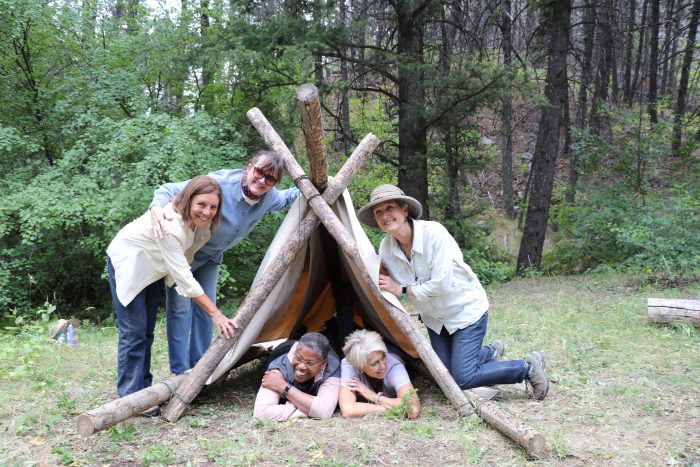 Discover it Week
Discover The Wilderness, Discover You, Discover Montana: This week's retreat provides a unique opportunity to combine recreation with an introspective tone. This week is not only filled with laughter, fun and camaraderie, you will enjoy nature and discover a balance of harmony and develop a "closer attachment" to the natural world around you.
This week is full of opportunities to explore the outdoors and how to look at the Earth in a totally different way. The days are challenging, yet restorative. During this retreat you will learn about the natural world. Awareness, tracking skills, outdoor survival, outdoor philosophy, outdoor skills, and so much more Another highlight of this trip will be the opportunity to experience guided self-reflection through Equine Facilitated Learning. Hiking in the backcountry, Horseback riding, fly fishing, all under the Big Montana Sky! We want to help you relax, have a good time, and surprise yourself with the skills you already possess.
Many of our guests have told us they like the Discover It week with UCO, because it truly is a vacation out of the ordinary, while they challenged themselves by learning new skills. It was not only physically active; it opened their eyes and mind to the natural and spiritual world around them, it made them stop and think that there is more to life than 9 – 5 and what society deems important. They enjoyed making new friends, laughing and relaxing. Many have even told us it helped them with what they desired in life and how to accomplish those goals.
Our instructors will be there assisting you in everything you need and do, please feel free to ask questions and always let us know about any health concerns. Through exploring, sharing and learning, you will expand on building confidence and self-sufficiency in nature. Here at UCO we seek to fulfill that desire and dream.
"It's one thing to walk through a landscape and just "see" things; it's another, to fully understand it." 
Check in Saturday June 26 and check out Friday July 2  six nights/ five days Includes meals, five days of activities with our experienced guides and instructors, class materials and all fishing equipment. Cost $2,750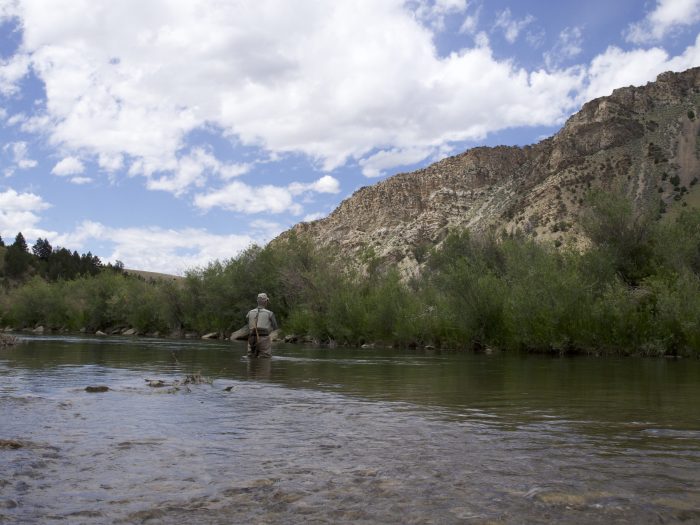 Bamboo Week
Special guest and renowned rod builder, Jim Downes, will be hosting this annual event. This is a six nights five day package filled with fly fishing and a chance to experience state-of-the-art vintage performance rods. You can hand-craft a bamboo rod yourself, or simply enjoy fishing a number of bamboo rods that we have here at the ranch. Come join the crew at UCO to benefit from casting instruction, guided fly fishing, and engaging talks about the history of the split cane rod. Bamboo fly rods were in their heyday in the 1870s – 1950s then fiberglass became the predominant material. UCO wants to share with you the history and feel of casting and fighting large fish on a cherished bamboo rod.
This will be a week filled with casual laughter over meals and lighthearted evenings on the porch enjoying the big sky of Montana. And, of course, it will be filled with fly fishing. Our guides are experienced enough to help our guests perfect fishing techniques or help a new fisherman learn the foundation of fly fishing.
All package includes 6 nights 5 days of fly fishing along with home cooked meals:
ROD BUILDING PACKAGE: For those building rods you will have mornings to build your rod and in the afternoon four days of ½ days guided fly fishing, 1 full day guided,  along with your hands on instruction from Jim on building your own personal bamboo rod.   The goal is by weeks end you will catch a trout on the rod you built with your own hands. 
NON-ROD BUILDING PACKAGE: 3 days fully guided fly fishing 2 days on public water 1 day private water rod fee included.  1 day of your choice: of any UCO activity from more guided fly fishing, horseback riding, history tours, hiking tour..you name it.  And then you will have one day on your own to relax or fish on your own,  or upgrade to a guided UCO activity.   Don't forget there will be a number of bamboo rods available for you to fish with at no charge during the week. 
Here at UCO we want to share with you the history and feel of casting and fighting large fish on a cherished bamboo rod.
Check out this video of Jim and his believe in the art of rod building:
Check in Saturday Aug. 7 and check out Friday Aug. 13  six nights/ five days Cost $2345.00 for non-building rod package and $3,250.00 for Rod Building Package, with hands on instruction.  Guest who will be at the ranch for grand slam week  you can upgrade to build your own rod Upgrade cost is $760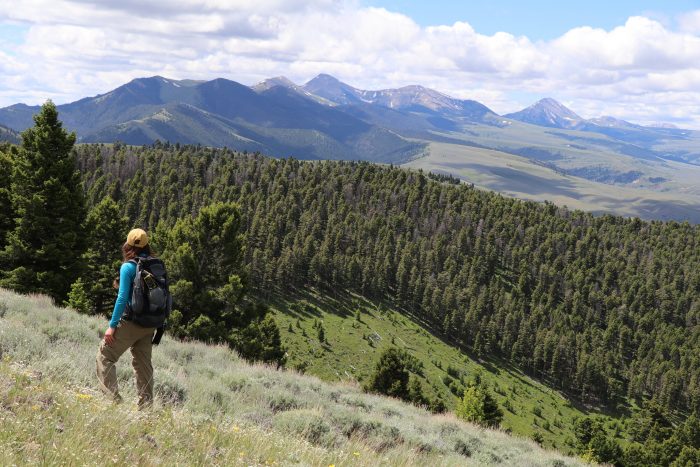 Reaching Great Heights
A Week of Hiking Created for Adventurers of all Ages
We have put together a week filled with mountain exploration, big views, camaraderie, and wellness. For this week we have chosen trails that strike a balance between elevation gains and accessibility. We will take our time as we wander through the mountains of Montana. Not an experienced hiker? Not a problem. The group will stick together and take as many breaks as necessary. People are often surprised how far they can hike if they accept the challenge of the climb and patiently go at their own pace. That is what this week is all about! The hikes during this specialty week will take you through three different mountain ranges. Day one will be a hike across the snowcrest mountain range on a well established trail that Donna's grandpa helped build in the 1930s with the help of the CCC. This is a great hike to be on the lookout for any antlers that deer and elk may have shed. It is a great trophy to take home! Day two will take you north of UCO to another trail in the Tobacco Roots which will lead you to a high mountain lake where we will rest and have a picnic lunch before heading back to the ranch. On the way home we will be sure to stop for a refreshment at The Ruby Valley Brew, a local favorite and always a good time! After two full days of hiking, we have arranged for our guests to have an opportunity to dip your toes in the Ruby River. This will be a day of guided fly fishing, we have guides that can accommodate the expert anglers all the way to first time fishers! Day four will be back to the fresh air of the mountain tops as we explore the Gravelly Range mountains with our very own wildflower expert. This is your chance to learn about local wildlife and the abundant wildflowers Montana has to offer. This is a day filled with breathtaking beauty, wildflowers and big skies. Day five you will have an opportunity to explore old mining towns with Donna for a full dose of history or take a 4 hour horseback ride with a picnic lunch.
Each night you will be brought back to the ranch for rest and relaxation. We will be sure to arrange for a massage therapist midweek to help with any sore muscles and early morning yoga sessions to get you ready for your busy days. On your last night at the ranch you will be treated to live music and an extended happy hour under the big skies of Montana. This week was designed as a bucket list activity. This is not a week created for extreme hikers, rather, it is a week for those with a strong sense of adventure and a can do attitude. If you bring those two things, we will get you to the summit!
Check in Saturday August 21 and check out Friday August 27 six nights/ five days Cost $2850.00.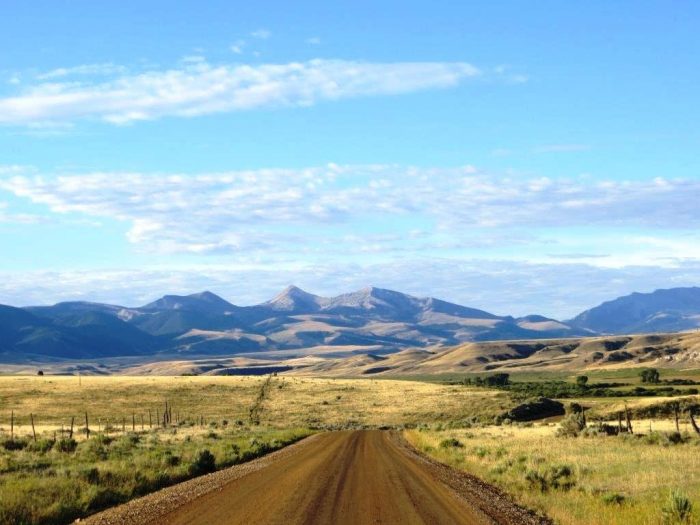 Montana Backroad Tour
Dirt Roads and Breweries of Southwest Montana
August 28 – Sept 3
Montana does a lot of things well, but they really excel at breathtaking views and mouth watering beer! That is why we have created a new specialty week to highlight some of the backroads around UCO and the breweries that can be found along the way. One day will be spent in a 4×4 ranger cruising over the gravelly mountain range. You will see lots of wild flowers and incredible views. We will be sure to pack a picnic lunch this day to enjoy at the top of the mountain range. We will then drop down into Ennis Montana to check out Willie's Distillery where you can have the chance to taste some authentic Montana Moonshine. We will then head across the street to finish the afternoon with a taste of Ennis's own beer from Burnt Tree Brewery. While we sit back and sip, the UCO team will load the rangers onto a trailer and then prepare to drive the crew back to UCO for dinner.
On day two we will stretch your legs with a hike to a high mountain lake in the Tobacco Root Mountains. Again we will provide a picnic lunch along with some professional guides to lead the way. On the drive back to UCO, we will be sure to stop at a local favorite, Ruby Valley Brew, in Sheridan, MT. Get ready to experience some amazing beer in small town Montana.
On day three we will give you the chance to check out the incredible fishing the Ruby River has to offer. You will be fitted with a professional fishing guide that will meet you at your level of angling experience. UCO will provide all the fishing gear needed.
Day Four is an action packed day of history, hot springs and another brewery! We will head over to Dillon, MT by way of the Sweetwater road. This road is actually part of the old stage coach trail that was used back in the gold rush days. Donna will guide this day showing many marks of history. Along the way we will check out a natural hot springs that travelers used to use as an opportunity to bathe. There is even an old bath house still standing! We will then continue to Dillon, MT to check out Beaverhead Brewing Company.
On the final day you can choose from a 4 hour horseback ride with a picnic lunch or a 4 hour guided hike. Whatever you choose to participate in, we will be sure to have you back at the ranch in time for an extended happy hour with live music.
Check in Saturday August 28 and check out Friday September 3 six nights/ five days Cost $2,880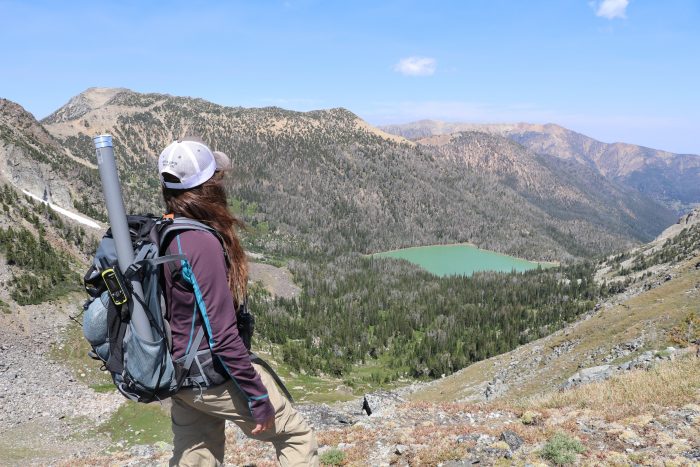 Elevation Seekers
A Week for Hikers
One of the greatest features of the Ruby Valley are the miles and miles of hiking trails. The team at UCO has come up with a hiking vacation package for guests that are looking for a few challenging hikes mixed with some ranch hospitality and relaxation. The scenic hiking trails in our area capture the wild and rugged nature of this state with their stunning views of vast open spaces and beautiful clear mountain lakes set amongst breathtaking mountain peaks. For this specialty week we are offering three hikes guided by experienced hunting guides that know the area and will be able to share interesting information about the area while safely guiding the way. These experienced guides are also some of the best at spotting far away herds of animals and elk and deer antler sheds! Elevations for these hikes will range from 6,500 to 10,500 feet. The first hike is a two day/one overnight hike across the top of the Snowcrest Range. This hike features mountainous terrain, meadows, ridge peaks, and wildlife. We will have camp set up on the trail for your overnight stay so you can travel light, without having to burden yourself with gear and supplies. After spending a night out under the stars you will return to the ranch to enjoy a lovely dinner, celebratory drink on the patio and a sense of accomplishment with fellow hikers. The next day we have set aside for you to enjoy one of our ranch activities of your choosing; fishing, horseback riding, or a 4×4 tour. The following day you will head to the Tobacco Root mountains, where we will hike to one of the many alpine lakes, and the fish may even be biting! On our way back to the ranch we will stop in at the Ruby Valley Brew, a local watering hole that is very popular. The week will be topped off with a hike to the top of the well known, predominant Black Butte. Which is rich in history and meaning in our area. This package is 5 days/6 nights, it includes lodging and meals. A yoga instructor and massage therapist will be on staff if you would like to start your morning with some restorative yoga and/or finish your day with a massage. So dust off your hiking boots, grab your backpack, and let us handle the rest!
Check in Saturday July 31 and check out Friday August 6 six nights/ five days Cost $2,980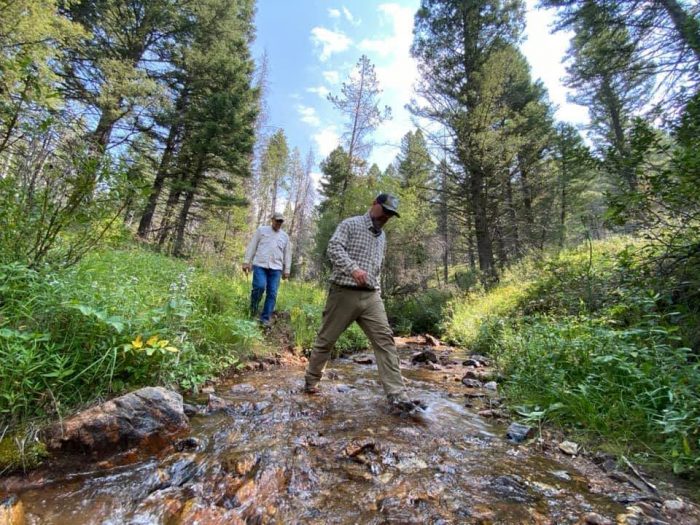 Trail Convoy Crew
A Week of Trail Maintenance June 12-18
Here is a chance to team up with the UCO crew and do something great for conservation and generations to enjoy the outdoors. We will be working on the famous trails in the Snowcrest Range for 5 days in June, and we are looking for help. We will start the week with an informational meeting with Montana Fish and Wildlife presenting the importance of trail maintenance and some hands-on training to learn the best techniques to clearing debris and taking down trees.
Once the class wraps up, we will head into the mountains to begin work! We will be working on the snowcrest trail. On the ride up to the trail, Donna will review the history of the trail and how it ties back to the Tate family. While work is being done on the trail, there will be a UCO team setting up camp for the night. We will be sure to make your night under the stars a memorable one with delicious food and a beautiful campfire to sit around.
The next day we will begin with a hearty breakfast before another day of trail work. At the end of this day we will head back to the ranch for some relaxation and a happy hour. After two more days of trail work, we will have a free day to choose from one of the following activities: guided fishing, guided horseback ride, or guided hike.
This package includes all meals and lodging.  We will also be providing the tools for all trail maintenance. We would encourage people to bring good, working boots and leather gloves for this week.  Trail maintenance is hard work, but nothing makes you feel alive like working in the great outdoors, knowing you are doing good for others!
Check in Saturday June 12 and check out Friday June 18  six nights/ five days Cost $2,300