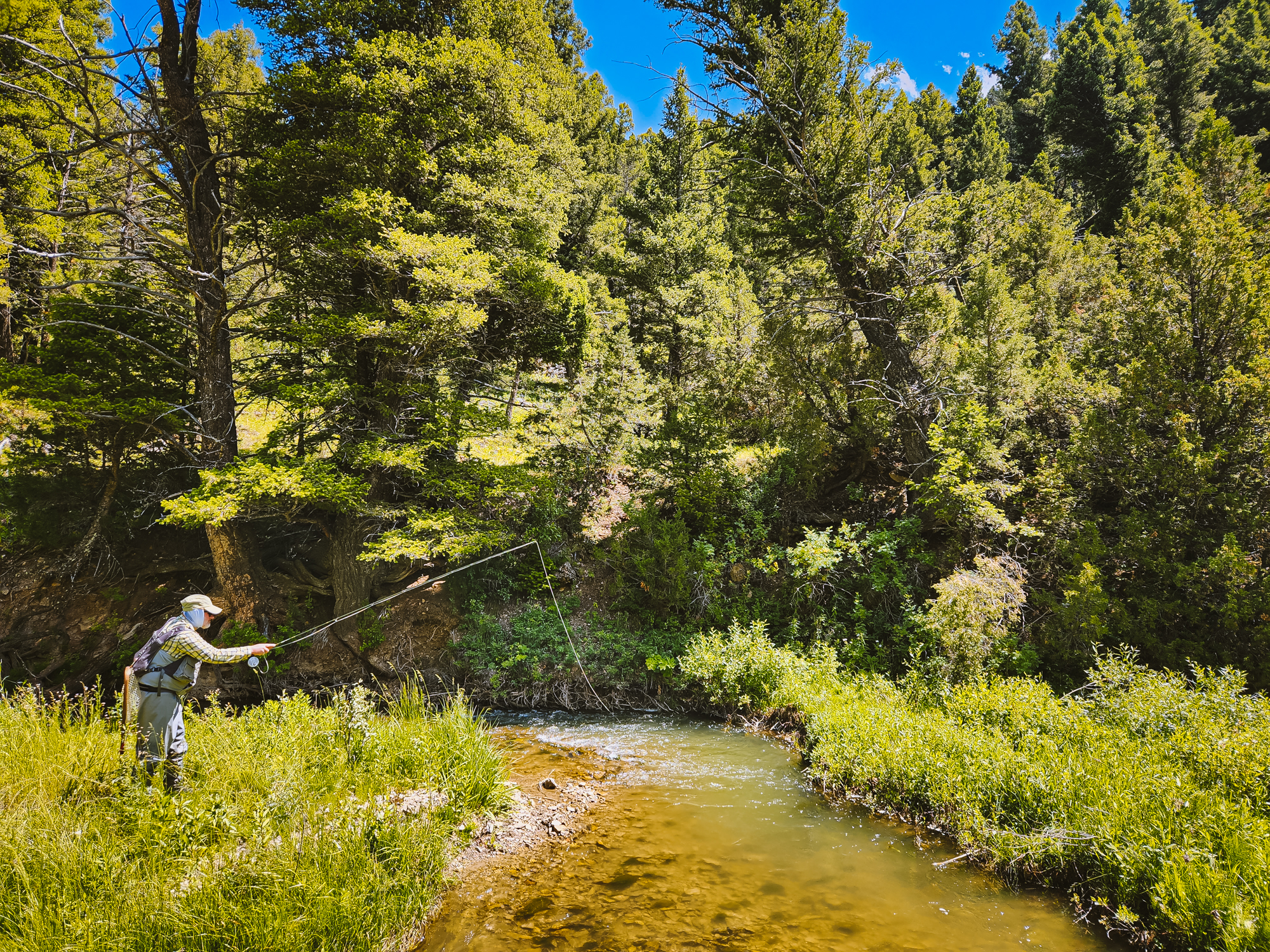 Fishing Adventures in the Ruby Valley
The Ruby River is one of the best wild trout rivers for Montana Fly Fishing and we provide our guests the exclusive opportunity to fish trout-filled waters here at the ranch and experience a number of different rivers and streams. We have access to more waters to fish then you have time to fish them. Along with private ranches we lease for fishing, the Beaverhead National Forest is just outside our backdoor, you can spend your days fly fishing the Ruby or exploring the many smaller tributary streams that run through the mountains and valleys. You can also introduce family and friends to fly fishing and practice your casting on our private spring-fed pond.
Our full-time fly-fishing guides are available at the ranch for instruction, float trips, walk/wade trips, and adventures into our numerous mountain spring creeks. Our guides have a passion for fishing and teaching. Taking you out fly fishing is only the beginning, we love to teach, be it the beginner to the seasoned fisherman our guides will help you with a number of techniques and strategies.
For those who prefer to go unguided, you'll find them happy to help with hatch information, directions, access points, and stream reports to ensure you have a great day on the water.
From the Ruby River to Your Net and Back
Here at Upper Canyon Outfitters, we cater to each guest's individual needs and would be happy to assist you in planning your Montana vacation. We offer several specially-priced packages, as well as our Build Your Own Adventure option that's a perfect choice for the self-explorer.
At Upper Canyon Outfitters, we understand the importance of protecting our natural resources and doing all we can to ensure they endure for generations to come. That's why our ranch and guides are proud to support and practice catch and release fishing – so that your great catch of today can become someone's catch of a lifetime tomorrow.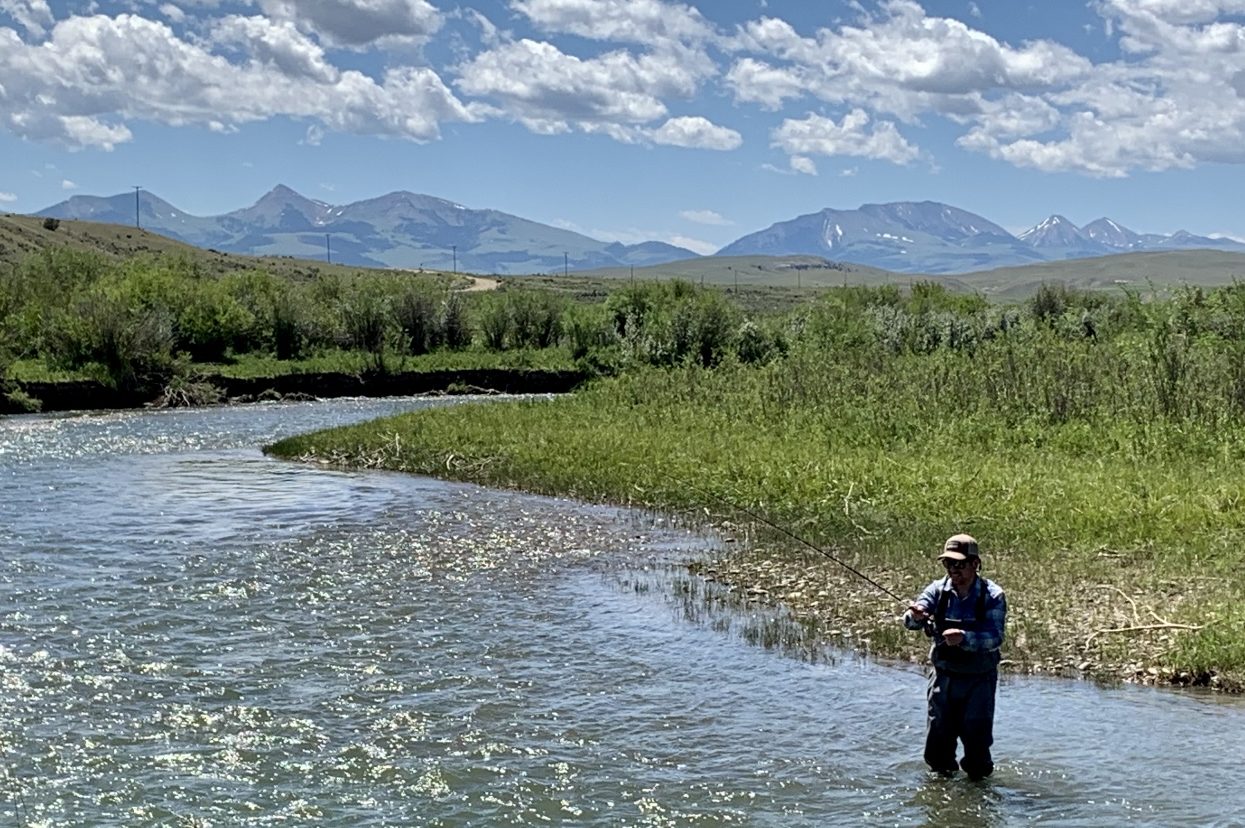 The Rivers
Ruby: provides excellent fly fishing for anglers. On the Upper Ruby, you will find rainbows, cutthroats, brook trout, and grayling. The lower stretch of the river, below Ruby Dam, provides excellent brown trout fishing. Catch them all plus the Mountain Whitefish and you've caught the Ruby River Grand Slam.
Madison: is a fly fishing mecca for serious anglers. It is classified as a blue ribbon fishery in Montana and is one of the most productive streams in Montana for brown trout, rainbow trout and mountain whitefish. The Madison is an hour from UCO.
Jefferson: Known for big brown trout, the Jefferson retains much of its scenic beauty and wildlife diversity from the days of Lewis and Clark, from broad valleys to a narrow canyon, it passes through a region of significant geological diversity. The Jefferson is an hour from UCO.
Beaverhead: Prominently a brown trout river the name of the Beaverhead originates from Beaverhead Rock on the middle river. This rock formation was recognized by Sacajawea when the Lewis and Clark Expedition passed the area in 1805. The Beaverhead is 1 ½ hours from UCO.
Big Hole: A destination for serious trout fisherman since the late 1880s. The Big Hole is known for its high numbers of wild and large rainbow and brown trout and excellent brook trout fishing. The Big Hole is 2 hours from UCO.
UCO will help anglers arrange an outside guide services for the Beaverhead and Big Hole Rivers.
What The Ruby Is About
| | |
| --- | --- |
| Big Dry Fly Fishing | |
| Hopper Fishing | |
| Tight Line Nymph Fishing | |
| Dry/Dropper Fishing | |
| Small Stream | |
| High Mountain Lake Fishing | |
We offer several specially-priced packages, as well as our Build Your O
| | |
| --- | --- |
| Montana Get Away Package | |
| Explore It All Package: Different Activity Everyday | |
| Angler's Dream Package | |
| Dude Rancher's Package | |
Package prices are based on double occupancy. An additional fee of 15% is charged for singles. Private water rod fees are extra.
Shuttle Service can be arranged by outside companies
Non-Riding Companions: Ask about our special rate for your non-riding friends and family to come and spend quality time together at the ranch.
On top of offering total packages for trips at UCO, we also offer a Build Your Own Experience option. This gives you the freedom to plan what you want to do and when you want to do it.
Build It
Lodging
| | | |
| --- | --- | --- |
| Adult Double Occupancy / Per night |   | $350 / Person per night |
| Adult Single Occupancy / Per night |   | $400 / Person per night |
| Youth 15 years and younger 1/2 price meals and lodging, Full price on activities |   | $175 |
| Accommodations: Lodge | 4 Private rooms with private bath | Sleeps 1-3 guests |
|   | Family/Friends Room (2 rooms w/shared bath | 4-6 guests |
| Accommodations: Cabins | 3 Two Bedroom/2 Bath w Kitchen | Sleeps 4-7 guests (min 4) |
|   | 1 One Bedroom/1 Bath w Kitchen | Sleeps 2-4 (min 2) |
|   | 1 One Bedroom Loft/Bath/Kitchen | 3-4 (min 3) |
| No meals | deduct from lodging/meal package | -$65.00 adult, -32.50 youth |
Meals
| | |
| --- | --- |
| Breakfast | $20 / Person |
| Lunch | $25 / Person |
| Dinner | $45 / Person |
Activities
Guided Walk / Wade Fly Fishing
Two Anglers: $720/Day One Angler: $600/Day
Fly Fishing Rod Fees for Private Water
$85 – 150 / Angler
Float Trips
$740 per boat
Hourly Horseback Riding
$80 / Hour, 2 Hour Min
Lunch Horseback Rides
$310 / Person, 4 Hour Minimum
Day Horseback Ride
$440 / Person, 6 Hour Ride
Equine Facilitated Wellness
$375 / Person, 3-4 Hour
Half-Day Day Activities: Guided Hiking Tours, History Tours, Intro to Fly Fishing, Firearms Course (ammo extra), 4×4:UTV Tours, UTV/Hike Tour. Lunch at UCO.
$220.00 ½ Day PP
Tours Capped at $660.00 Min of 4
Full-Day Day Activities: Guided Hiking Tours, History Tours, 4×4:UTV Tours, UTV/Hike Tour. Lunch supplied on tour.
$300.00 Full Day PP
Tours Capped at $925.00 Min of 4
Ages 6-12 years, 50% discount on lodging and meals.
Policies and Additional Info
| | |
| --- | --- |
| Transportation to Ranch | |
| Cancellation | |
| Licenses | |
| Solo Traveler | |
| Reservations | |
| Client Responsibility | |
What to Pack and Bring With You
3-, 4- or 5-weight rod for small streams
6-weight rod for larger rivers
Weight forward floating lines work best
4x, 5x and 6x tapered leaders 8-11 feet long
A good single-action reel with backing
Chest waders and wading boots (UCO has a wide variety of sizes of boots and waders for you to rent at our store). No rental fee on guided trips.
Polarized sunglasses
Sunscreen and bug repellent
Rain jacket
Warm sweater or fleece jacket
Waterproof camera
Your sense of adventure