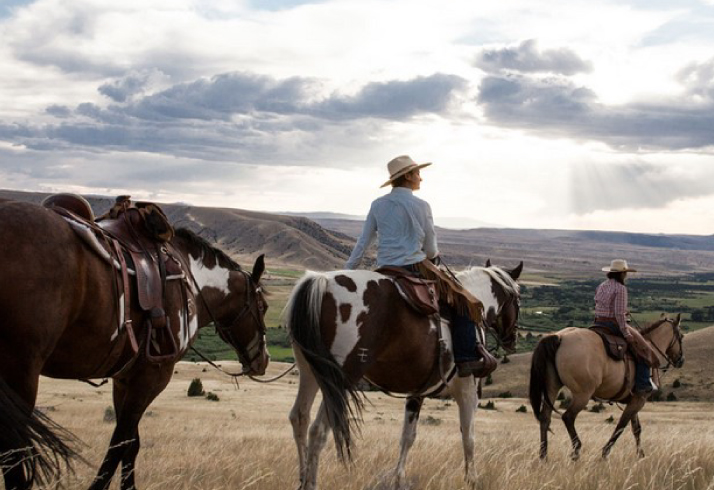 Welcome Experience Natural Horsemanship Equine FaciliTated WELLNESS RaTESPolicies
Explore Beautiful Montana on Horseback
There's really nothing like seeing the lands of the old west the way they were first seen and explored – from horseback. At Upper Canyon Outfitters, we offer a full range of options for riders of all skill levels to saddle up and discover the rugged beauty of Montana's Big Sky Country. We have a weight limit of 220lbs for our horseback rides.
From two-hour rides to full-day excursions, you can explore the lands of the Ruby Valley at a pace that's comfortable and unforgettable. By keeping our rides small and personal, we make sure that you are taken care of. For a closer look at Packages for your Montana riding adventure, visit our Rates page for pricing and accommodations information.

Experience Natural Horsemanship in the Mountains of Montana
UCO offers much more than just trail rides, we offer an opportunity to really get to know your horse and create a bond with them. This connection adds so much more to your horseback adventures. Before the first ride all guests are walked through a safety briefing on how to get the most out of your ride, all while keeping yourself and your horse safe as possible. We can choose trails that match up to your skill or interests. We have rides that involve creek crossings, big views, and elevation gains, but we can also find rides that stay in the shade or stay at lower elevations. There are so many trails, that we have clients that have been coming for years and we still find them new places to experience! One of the reasons we keep our rides small is so we can match the ride to your needs and desires to provide a wonderful, individualized experience.
We also offer opportunities to get to know your horse on the ground. Our professional wrangler team is happy to teach our guests about horses and natural horsemanship in our Equine Facilitated Learning class, we also offer grooming experiences and can teach you how to saddle up and prep your horse for a ride. Time spent with your horse allows for a connection between rider and horse to deepen. So if you are looking for an opportunity to experience an authentic connection to a horse in some beautiful country, this is your chance!
*We have a weight limit of 220lbs for our horseback rides.

Equine Facilitated Wellness
This is a unique class offered at Upper Canyon Outfitters. This class allows participants to learn new skills through genuine, authentic feedback from horses. The class starts with a lesson in horsemanship and horse psychology.
Participants learn about the mindset of a prey animal and the tendencies of predators. They are then led through a number of initiatives that involve horses and humans. Through these experiences, people are able to learn about themselves, their leadership styles, and personal blind spots.
The session can be done in groups or as individuals. The focus of the class can be individualized to each group/individual. This activity has been deemed "The biggest trend in wellness" by Forbes (Bell, Katie. June 2017. 'Experience the biggest trend in wellness. Forbes.). The facilitator of this class is Cassie Ubaldo, a lifelong horsewoman that has earned her bachelor's in psychology and a master's in education with an emphasis on counseling.
Rates
| | |
| --- | --- |
| Montana Get Away Package | |
| Explore It All Package: Different Activity Everyday | |
| Angler's Dream Package | |
| Dude Rancher's Package | |
Policies and Additional Info
| | |
| --- | --- |
| Transportation to Ranch | |
| Cancellation | |
| Reservations | |
| Solo Traveler | |
| Client Responsibility | |