Things are starting to pick up again here at Upper Canyon Outfitters. Summer season is officially upon us! The days are warmer and the nights shorter. Our staff is thrilled to have one of our busiest seasons yet. Slowly, things are returning back to normal. You will still see certain COVID-19 protocols implemented to ensure the safety of our guests and cleanliness of our facilities and lodging.
Here at Upper Canyon, we provide our clients with an authentic western experience. Returning guests praise us for our hospitality and inclusive environment. Once at the ranch, you feel as though you are part of the UCO family. The activities we offer to guests during our summer season include horseback riding, fishing, firearm instruction, 4X4 excursions, as well as guided hikes and history tours
We will have shuttle services running again for pickup at the airport if you don't rent a car. On your drive to the ranch from Bozeman Airport, you will have expansive views of multiple mountain ranges starting in Bozeman. Along the way, you will see the small town of Ennis and the gorgeous Madison Range. About 45 minutes from the ranch, you will get to drive through the historic towns of Virginia City and Nevada City. This well preserved, old Victorian gold mining town truly resembles the original Old West.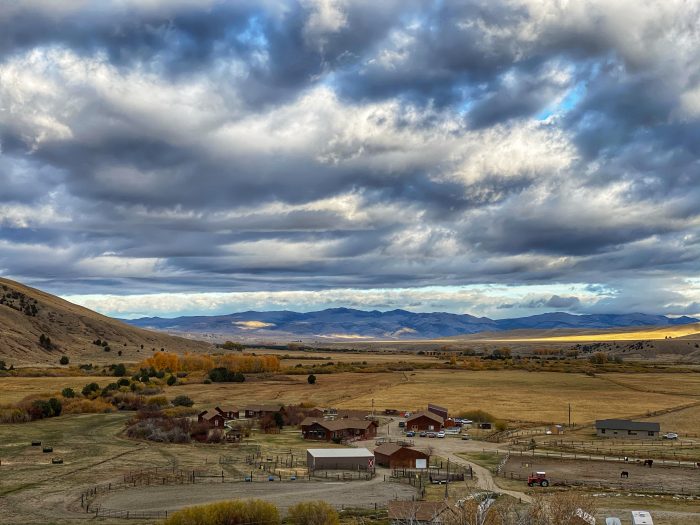 After passing the Ruby Dam Reservoir, you will soon hit a dirt road. 12 miles down this dirt road, you will hit Upper Canyon Outfitter's. The ranch is nestled right between the Snowcrest, Gravelly, and Green Horn mountain ranges. Off in the distance you will see the Tobacco Root mountains where you can view beautiful evening sunsets. UCO is a place to come unwind and mentally reset with 360-degree scenic views. You feel as though you are in your own little world out here.
The Ruby Valley is a special place that we love sharing with our guests. As one of the largest national forests in Montana, Beaverhead-Deerlodge National Forest covers 3.35 million acres. With easy access to public land, there are many different areas to go and explore. If you're looking to stay close to the ranch, the Ruby River flows right outside our backdoor. We have about two miles of private water access on our property. It's great if you're looking to fish a little more in the evening and don't have to leave the ranch.
Whether you like fishing, hiking, horseback riding, or just relaxing and enjoying the fresh Montana air, Upper Canyon Outfitters is a great place to bring family and friends. Here at UCO, we love sharing new experiences with our guests. Seeing their genuine excitement is what it is all about!